The first day of spring (also known as Spring Equinox) is next week on March 20, 2014. That means spring, and all its pretty flowers and fresh fruits and vegetables, is just around the corner. What better way to welcome spring than with a plate full of delicious spring rolls!
I'm particularly enamored with spring rolls because my family made them often when I was younger. The five of us sat around the table, piled crisp, raw veggies such as bean sprouts, romaine lettuce, and shredded carrots high onto sheets of rice paper, and rolled to our hearts' content. 
My mother's rolls were always perfect and beautiful. My father's rolls were messy, but also the tastiest-looking. The rolls my little sister made were filled with weird ingredients she gathered around the kitchen (because she's spunky like that), and my brother's rolls were thin and meticulously constructed because he has so many food allergies. 
My rolls were the fattest. Double the amount of carrots, double the lettuce, double the sprouts, tofu, roasted peanuts, cilantro, and pickled daikon––that's how I like my spring rolls.
Celebrate the new season with some fresh spring rolls. Here are a few great recipes:  
Tamari Tofu and Vermicelli Spring Rolls with Mint  
Thai-Inspired Spring Rolls
Seasoned Green Cabbage & Carrot Spring Rolls
Stir-fry Veggies Spring Rolls   
Vegan Sesame "Chicken" Spring Rolls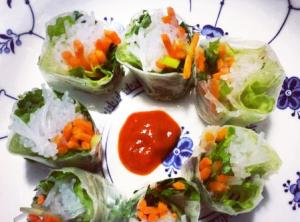 Comments
Be the first to add a comment.