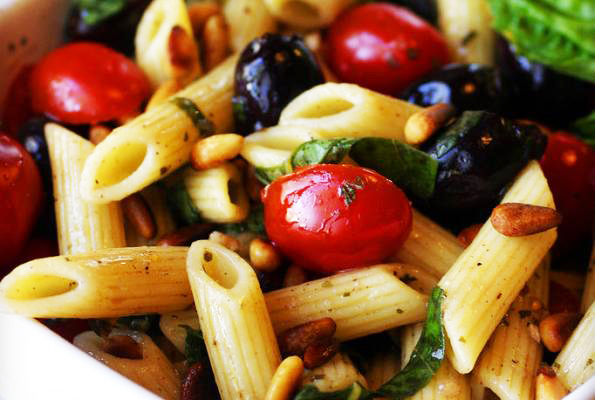 According to National Geographic, the oldest bowl of noodles ever found was in northwestern China and was more than 4,000 years old! Before this discovery in 2005, there was a heated debate (we could even say it was boiling *ba dap ba!*) as to whether noodles were invented in Italy, the Middle East, or China. Throughout history, noodles have made the world go 'round as a staple of many cultural cuisines.
Nowadays, the beloved noodle comes in all kinds of shapes, sizes, makes, and tastes––the best, of course, being the egg-free vegan noodle. For those with gluten-intolerance, thankfully there are several kinds of gluten-free noodles made of quinoa or rice for instance.
Here are just a few of our favorite vegan noodle recipes: 
Sesame Citrus Soba Noodle Salad
Spinach and Mushroom Fettuccine Alfredo
Tempeh Cashew Noodles
Easy Artichoke Pesto Pasta
Tomato, Basil, and Roasted Pine Nuts Penne
And, be sure to check out our Pinterest boards––you'll find an Oodles of Vegan Noodles board that served as inspiration for this post along with Raw Done Right, Sweet Vegan Desserts, and 15 other boards carefully curated with only the most scrumptious vegan recipes. We're adding to our boards daily, so stop by often.
Comments
Be the first to add a comment.